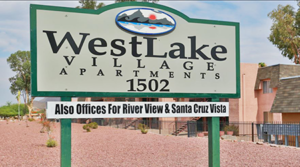 TUCSON, Arizona – Marcus & Millichap (NYSE: MMI), a leading commercial real estate investment services firm with offices throughout the United States and Canada, today announced the sale of three apartment properties in Tucson, AZ:  River View Villas (80-units), Santa Cruz Vista (56-units), and Westlake Village (100-units), according to Ryan Sarbinoff, regional manager of the firm's Phoenix/Tucson office. The portfolio, totaling 236-units, sold for $8.6 million ($36,441 per unit).
The 236-unit multifamily community, enjoys a commanding position on Ajo Way, also known as State Route 86. Completed in 1981, 1983 and 1984 the properties feature solid frame and stucco construction with a mix of studios, one-, two-, and three-bedroom apartment units, with a weighted average unit size of 597-square-feet.
Unit interiors feature a well-equipped kitchen, ceiling fans, and wood-vinyl flooring on the downstairs units. Select units include linen closets, additional outside storage, walk-in closets, and dishwashers. Community amenities include a pool at each community, a welcoming leasing office, gated access into the property from each entry along Ajo Way, three laundry facilities, and outdoor space with barbecue grills and shuffleboard courts. The current ownership has replaced the pools and roofs for all three properties, improving the presentation of the properties.
Hamid Panahi and James K. Crawley, investment specialists in Marcus & Millichap's Tucson office, along with Peter R. Flis, an investment specialist in Marcus & Millichap's Sacramento office, had the exclusive listing to market the property on behalf of the seller, a private investor.
"The West Tucson portfolio sale was successful due to collaborative efforts between Hamid, James and Peter which brought together relationships from Arizona and California to help our clients achieve their investment goals," says Sarbinoff.
The buyer, an individual/personal trust, was also secured and represented by Panahi, Crawley, and Flis.
"The three assets are an excellent addition to the buyer's portfolio in Tucson, as it results in immediate scale in the southwest Tucson submarket," says Crawley.
"Extensive capital improvements were recently completed at the property, but the buyer has further opportunity to add value through both exterior and interior enhancements," added Panahi.
The seller purchased the portfolio in January 2017 as a value-add for $7.05 million.
For additional information, contact Panahi at 520.448.5045 and Crawley at 602.687.6807. Flis can be reached at 916.724.1286 in Sacramento.