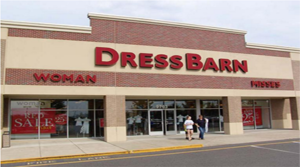 MAHWAH, N.J. — The Dress Barn, Inc. announced that its wind down continues to progress according to plan and that all retail stores are expected to close by the end of 2019.  "We have received overwhelming landlord support for our plan, which will allow us to implement our wind down in a manner that provides the best recovery for our landlords.  Further, we are current, and expect to remain so, with our vendors and suppliers," said Steven Taylor, Chief Financial Officer of Dressbarn.
The Company has taken the following steps to further advance the wind down process:
Started planning the closing cadence for all stores based on agreements reached with landlords;
Engaged Gordon Brothers Retail Partners to assist with the eventual closure of all stores; and
Continues to ensure the receipt of fresh inventory for the balance of the process through close collaboration with its vendor and supplier network.
Intellectual Property Sale Process
Dressbarn also announced that it has retained Hilco Streambank to solicit interest in the intellectual property assets of Dressbarn, which include U.S. and international trademarks, domain names, and other assets.
"The Dressbarn customer is loyal and cares deeply for the brand," Taylor noted.  David Peress, Executive Vice President of Hilco Streambank, added, "A buyer of the Dressbarn brand has the unique opportunity to connect with a devoted customer base and build upon a brand heritage with a well-established presence throughout the U.S." Parties interested in the Dressbarn brand or learning more about the sale process can visit the Hilco Streambank website. 
Additional Store Closings
Today, Dressbarn has commenced store closing or inventory clearance event sales at 53 stores that are slated for closure by the end of August.  A list of all planned store closures, including those previously announced, can be found on the Company's website. All other Dressbarn stores and the ecommerce site (www.dressbarn.com) are open and conducting business as usual.
The two stores in Tucson, located at Tucson Premium Outlets in Marana and Old Spanish Trail Marketplace do not have a closing dates yet.
"We encourage customers to take advantage of deeper discounts, shop early for the best selection, and use any outstanding gift cards.  Our teams remain committed to providing our customers with the same great experience both in-store and online, while offering them even better deals and value," Taylor said.