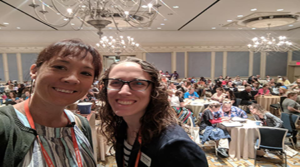 Five staffers attended Best Friends National Conference
PIMA COUNTY – Pima Animal Care Center presented at the Best Friends Animal Society national conference July 24-28 in Dallas, Texas. The annual event brings together animal welfare organizations from across the nation to share strategies about best practices to help save the lives of pets.
"As a one of the larger, municipal shelters at the conference, PACC is seen by attendees as a leader in animal sheltering, and people were excited to learn all about our lifesaving medical protocols, innovative foster and big dog programs," said PACC Director Kristen Hassen-Auerbach.
PACC attendees included Hassen-Auerbach, who presented on foster programs, big dog lifesaving and leadership; Chief Veterinarian Dr. Jennifer Wilcox, who presented on preventing the spread of contagious diseases; Cat Programs Coordinator Stephanie Stryker, who presented on cat behavior programs; and PACC Public Information Officer Nikki Reck, who assisted with a discussion about the importance of media when it comes to helping pets find fosters. All of the PACC staffers gave at least one presentation, with Director of Animal Services, Kristen Hassen-Auerbach giving four presentations.
Stryker said she was grateful for the opportunity to talk about behavior modification because the hope is to decrease the time a cat spends in the care of a shelter or rescue group.
"Shy cats have a history of leaving the shelter and sitting in rescue or foster homes for extended periods of time," she said. "As we save more lives, we can shift our focus to improving the quality of a cat's outcome by working with their behavior so that they can make it into adoptive homes."
PACC took in 17,023 pets in 2018 and is projected to take in even more than that for 2019. At the shelter, every pet gets an individualized evaluation and a chance for a live outcome, and
90% of all pets who enter the shelter leave alive, through adoption, return-to-owner, or rescue placement. PACC never turns away a pet in need and provides medical care to every animal who enters.
The shelter is recognized across the country for its life saving programs like fostering. More than 2,000 families fostered one or more pets in 2018, totaling more than 5,000 animals going to foster homes, a new national record. To learn more about PACC, visit pima.gov/animalcare.